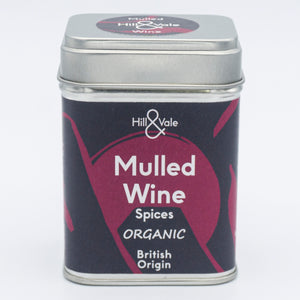 Flavour
Our Mulled Wine blend combines a base of cinnamon & orange peel along with allspice, star anise & clove to cut through and complement the rich flavour of red wine. We've also included nutmeg & bay to add depth of flavour along with black pepper for bit of warmth.
Usage
Each tin contains 3 x 10 gr sachets with each sachet enough for 1 - 1.5 litres of mulled wine. Simple to use instructions are on the side of each tin as well as a QR code linking to our website with more preparation ideas.   
Processing
Our spice blends are handmade in small batches for added freshness at our processing unit in Bristol. Our mulled wine sachets are organic certified & are made using the same spices that we source from our partner farmers. 
Packaging
The sachets we pack our mulled spices into are sourced from a producer in Scotland and are biodegradable. The labels are also made using biodegradable materials & the tins are readily recyclable. 
Design
The main benefit of buying our glass jars are the QR codes & artwork on the labels which is curated and designed by local Bristol artist & illustrator Hannah Grace. Our jars have 4 different designs currently, each representing a landscape where our herbs & spices are grown.